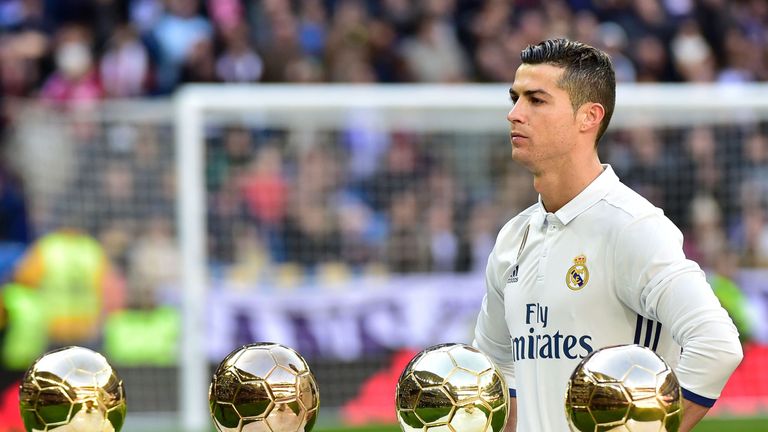 I take it if you read that title you are as surprised as I am. Most of us were missing Ronaldo in Manchester United, and we thought with the constant hate he gets in Real Madrid he would come back to Manchester United. This is because Ronaldo never got any jeers when he was with the United and he has admitted in the past that he misses the team, but it has been confirmed by Ronaldo that he is staying with Madrid.  When Ronaldo was asked about the jeers he gets with Madrid he admitted that he didn't like it at all as he was quoted saying," I don't like it, and it's not normal that they whistle you in your own stadium. I just don't like it." Ronaldo then went on to compare Real Madrid to Manchester United as he was again quoted saying," I spent a lot of years at Manchester United, and it never happened to me. Not even once. Maybe England is a case apart – the mentality is different."
The interviewer decided to ask Ronaldo how long he planned to stay with Real Madrid and he had the following to say," Forty-one! I said when I signed my latest contract that it would be my penultimate and that I would play on until I was 41." This bit is the most surprising as if he hates people booing at him all the time why would he not leave and go back to United? Well, the interviewer decided to ask him if he was ever looking to go back and join Manchester United and Ronaldo said he doesn't think he'll likely return. Here is the exact quote that Ronaldo gave," I'm very happy being in Spain, but obviously I also miss England because you can't just turn off the memories." As the quote says Ronaldo is very happy at the moment in Real Madrid, but he will always have the memories of playing for Manchester United.
To conclude, I believe that Ronaldo doesn't deserve to be booed by the fans of Real Madrid as not only is he a good addition to the team but he is also the football club's highest ever goalscorer. This is not all that Ronaldo has done for the team as he has actually brought the team to championship league matches and three of those matches were actually finals. What makes the jeering even worse for Ronaldo is that some fans actually have the audacity to chant at him while he is at his own stadium. Ronaldo actually commented on this by saying," I don't like it, and it's not normal that they whistle you in your own stadium. I just don't like it." The bottom line of all this entertaining information is that Madrid fans may not like Ronaldo, but that doesn't change the interesting fact that he plans to stay with the football team until he is forty-one years old. This means they may not have to like him, but they are going to have to get used to him for the next few years.
By Matthew Mullane